2020 started with lots of expectation from different quarters. Individuals and organisations alike had plans to become better, earn higher, work smarter, and so on. What no one could have anticipated was the coronavirus pandemic and its attendant paralytic effect on sectors and nations across the world. In a bid to curb the virus' spread, many countries including Nigeria imposed a lockdown on movement.
With the lockdown schools were shut, vehicular and human movement heavily restricted, employees could not go to work, petty traders and other small and micro entrepreneurs whose businesses are done offline could not do business, in essence a total slowdown of the economy. This ultimately meant an increase in hunger/poverty for many households.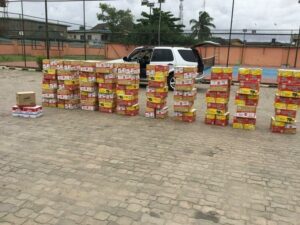 As a socially-conscious organisation, the foundation launched the COVID-19 Intervention Plan in April 2020, with the aim of supplying food to 2,000 households in Lagos. We partnered with individual volunteers and organisations across Lagos, and we achieved our goal of feeding 2,000 Lagosians. Families in Ikorodu, Agege, Oshodi, Bariga, Ketu, Isolo, Akowonjo, Makoko, Surulere, Ipaja, Olodi-Apapa, and Yaba benefited from the foundation's food drive intervention plan.